Jose Guillen a big topic on my mind as lately I've argued with quite a few people on it. So I'll answer some questions about ole Jose.
Question 1. Jose can you see ?
Maybe. Jose is happy that in this country before every game the people always ask him: Jose can you see by the dawns early light.... But lately that just makes him more parinoed as it seems like he is making quite a few 3 pitch K's. So Jose can you see ? We don't know maybe he got sunscreen in his eyes like Dan Johnson did.
Stats to prove a point 12 games 6 hits 12 Strikeouts 2 Walks
Question 2. Did we overpay for Jose Guillen ?
Let's look at how much he's made over the past 4 years:
2004 $2.2 million
2005 $3.5 million
2006 $4 million
2007 $5 million
2008 $12 million
Wow something really changed look how much his $$$MONEY-MONEY-MONEY$$$ is rising
A it's good to be JG right now. Remember back in Spring Training how he said he was going to buy a new awesome car ? Maybe that money whould have been better spent on an eye doctor or a new glove.
Question 3 Jose Guillen will bust out of his slump very soon ?
Maybe I mean no I don't excpect him to hit .150 all year but you no what trey say:

*******************
(Can he still hit whithout HGH ???)**************
Question 4 Jose Guillen is a huge asset in the OF
Yeah if his glove was as good as his arm but it's not the error he made yesterday was horrible shades of Emil Brown bad. True Emil might not have got to it. But a guy getting a $7 million dollar raise should catch that.
Question 5 Jose Guillen is a mean player ?
Let's look for ourselves:
Jose Guillen smack dab in the middle of th fight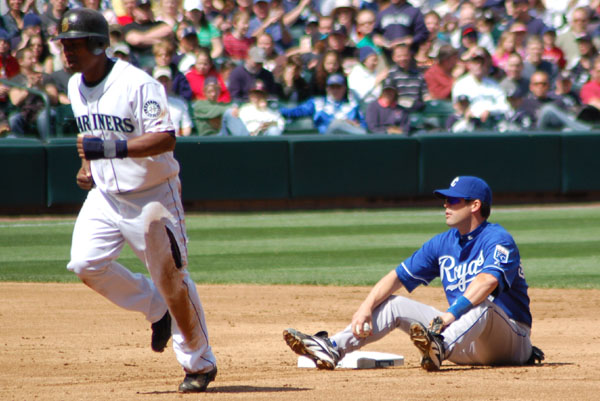 Jose Guillen after drop kicking Grudzielanek and then running away like a little girl
Another fight ??
That's all you need to know about Jose Guillen for now
-------------------------------------------------------------------------------------------
While your on the web be sure and check out
Royals Nation Survivor contest 2.0